Owen Morrish, senior honors double major in migration studies and Romance studies with a minor in psychology, has been awarded a U.S. Student Fulbright Grant to pursue a Master's in Migration Studies at the University of Birmingham in the United Kingdom during the 2021-2022 academic year.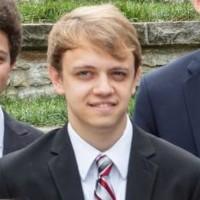 Morrish is specifically interested in studying the methods by which resettlement organizations in the United Kingdom aim to support refugees' acquisition of the English language. This program of study will enable Morrish to work toward his goal of uniting the fields of migration studies and language pedagogy to support more impactful linguistic integration for refugees worldwide. 
Fulbright grants are awarded by the U.S. Department of State and the J. William Fulbright Foreign Scholarship Board on the basis of academic and professional achievement, as well as record of service and leadership potential in an applicant's field. The Fulbright program offers grants to over 140 countries, and each country notifies recipients on their own timeline. Undergraduates who will earn their bachelor's degree by summer 2022 and graduate students are eligible to apply for the next cycle of U.S. Student Fulbright grants.