The mission of the Engineering Scholars Program is to expose students to the different types of engineering through group projects, class discussions, class discussions, interactions with faculty, alumni, and career exploration while simultaneously providing a supportive living-learning community that encourages the exploration of innovation and technological development within the context of engineering and social responsibility.
First Year

During the first year in Engineering Scholars, students will focus more on establishing the community, discovering what green engineering is, and exploring the many opportunities available to them as an engineering student at Ohio State.  The Engineering Scholars Program offers them a supportive and stable environment as they transition to a university setting.  Participation in Scholars during their first year at Ohio State will provide them with the tools and resources necessary to successfully complete their first year at Ohio State.
Second Year

During the second year in Engineering Scholars, students will focus more on professional development, how to apply engineering principles to their specific field or area of interest, and prepare for their future goals related to engineering whether that is within undergraduate research, an internship or co-op in industry, or even studying abroad. There are also many leadership opportunities available during the second year, including serving as a mentor and participating in the Leadership Council.  Participation in Scholars during the second year will enable students to realize their potential beyond their undergraduate studies.
Apply
Discover the steps to apply for this program.
Contact
For more information regarding the Engineering Scholars program, contact the program coordinator, Shalonda Makupson-Tilford atmakupson-tilford.1@osu.edu​​.
Students will take an Engineering Scholars seminar course to learn about engineering disciplines, explore major/career options, engage in group projects and classroom discussions, learn about undergraduate research and interact with faculty, alumni, and other industry partners. 
​Through the sessions and assignments in this course, students will:
Understand the requirements and expectations of being an Engineering Scholar
Understand the five G.O.A.L.S.​ ​of the University Honors & Scholars Center
Develop a close relationship with the Scholars Program staff and students from other co-curricular programs through collaborative events
Learn about opportunities related to the theme of the program
Clustered Courses

Students in the Engineering Scholars Program will complete the Fundamentals of Engineering sequence together by taking two clustered courses in the first year, ENG 1181.02: Introduction to Engineering I during autumn semester and ENG 1182.02: Introduction to Engineering II during spring semester. These courses are required for all engineering students (regardless of pre-major) but certain sections are reserved for Engineering Scholars students.

Topics: Some concepts covered in 1181.02 include programming in Excel and Matlab and varying hands-on team labs, while concepts covered in 1182.02 include a semester-long team design-build project and graphics in SolidWorks.

Purpose: Select faculty members teach these clustered courses to incorporate the Engineering Scholars themes into the curriculum. By emphasizing a team-centered approach, Engineering Scholars develop supportive relationships in the classroom that complement their learning outside the classroom.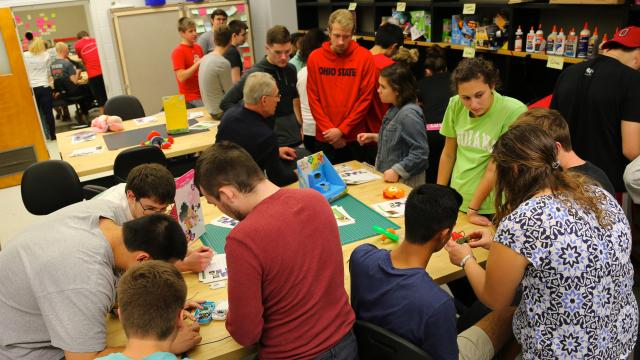 ​The Engineering Scholars Program provides varying types of opportunities by which the learning outcomes of the program can be met for each unique student. The service and involvement requirements of ES encompass each student's ability to choose and participate in the type of opportunities which individually align with their interests and learning style. By providing a menu of different types of opportunities to ES students, like workshops, activities, lectures, presentations, community meetings, tours, classes, and much more, each student has the ability to engage in the program in a way which is most beneficial to their success as a student at Ohio State.​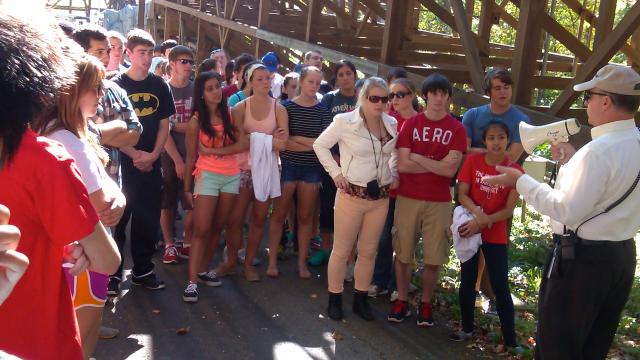 Each Scholars Program features a first-year residential community that provides students with a peer-network of high-ability students with similar interests. First-year Engineering Scholars students are required to live together in Drackett Tower.** Commuters are welcome to be a part of our Scholars programs.
**Please note that space in the prescribed residence halls is not guaranteed and students can be placed in other accommodations due to program demand if necessary.
Community Meetings

Community meetings for Engineering Scholars are held during spring semester of Year 1 and throughout all of Year 2 of the program.  During these meetings, engineering presenters come in to speak about their area of expertise within academia or industry or both. 

The purpose of the community meetings is to expose ES students to opportunities around campus and outside of campus which may align with their interests, to connect them to people and resources which may be beneficial to them, and to educate them about topics within the engineering field which they may not learn in the classroom.
Mentorship Programs

Engineering Scholars has a Mentorship Program comprised of approximately 5-8 upper-class mentors. The purpose of the program is to provide a support structure for the first-year students. The mentors are experienced engineering students who are able to provide first-year students with guidance in how to successfully navigate their first year engineering program and balance extracurricular activities. There are programs and events held each term specifically for ES Mentorship Groups.

All first-year ES students are assigned to a Mentorship Group over the summer and meet during the welcome event in the fall.
Leadership Council

The Engineering Scholars Program has a Leadership Council consisting of second-third year students. The Leadership Council members are chosen through an application process during spring semester of their first year. The purpose of the LC is to enhance, improve, and develop the Engineering Scholars Program for all of its members by providing enjoyable and educational opportunities to the community. These opportunities typically fall within the following categories: Tours, Mentorship and Outreach, Community Service Fundraising, Athletics and Engagement. The LC is also exposed to professional development and leadership opportunities.