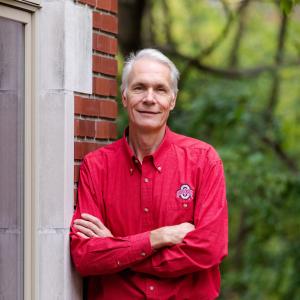 Thank you for visiting the website of the University Honors and Scholars Center at The Ohio State University.
As the Executive Director of the University Honors and Scholars Center, I have the privilege of working everyday with exceptional students, staff, and fellow faculty members to provide a rich educational experience unparalleled in scope and scale to any other program at this university. Everything we do is centered on our mission: helping high-ability students focus their ambitions and achievements to transform themselves and their world. 
The center serves high-ability, motivated undergraduate students in a multitude of ways through two core initiatives: the University Honors Program, the Ohio State Scholars Program. Through these programs, we at the University Honors and Scholars Center facilitate impactful, rigorous, and unique opportunities that further student success and involvement through our G.O.A.L.S.: Global Engagement, Original Inquiry, Academic Enrichment, Leadership Development, and Service Immersion. Whether an incoming student chooses to be involved in the curricular-focused Honors Program, or the experiential-based Scholars Program, all of our students are encouraged to seek out and reach whatever their goals might be. Through this website, you can learn about the different programs and experiences that help facilitate a transformative learning environment.
None of the work we do is possible without the support of a phenomenal team of staff, faculty and alumni working behind the scenes. The staff of Honors and Scholars is made up of a motivated team of administrators from an incredibly diverse array of backgrounds. Our staff works closely with partners from around campus, from Undergraduate Admissions and First Year Experience to College Academic Advisors and University Housing. Together, with the aid of our partners, we aim to provide our students with a seamless experience from the classroom, to the oval, to the residence hall. Our alumni also have a strong presence in the current student experience. With over 30,000 alumni across the globe, our students will always be connected to familiar faces whether they have a summer internship in another city or choose to study abroad in a foreign country.
With the recent launch of the Honors and Scholars ePortfolio, our students are now able to demonstrate what they have learned at Ohio State and actively reflect on their past experiences. Through this online tool, our students are able to demonstrate that they are in fact transforming themselves and the world around them. Take a moment to check out some of their e-Portfolios or read some of our student spotlight​ articles.  
The University Honors and Scholars Center is truly a dynamic community. I am excited that you are interested in becoming part of the Honors and Scholars community or just looking around. I hope you will take more time to continue to explore our website to read more about who we are and what we do.
And, as always, Go Bucks!​
Ola Ahlqvist, PhD
Associate Vice Provost and Executive Director of the University Honors and Scholars Center
​​