The Humanities Scholars Program offers students of any major an enriched study of the liberal arts through beyond the classroom programs focusing on literature, language, philosophy, history, culture and other humanities disciplines.
Students who enjoy discussing the world and the experiences of humanity will find the Humanities Scholars Program to be an excellent fit.​
The program is made up of around 250 students, all with varying interests within the humanities. Whether you have a humanities major or minor, are a history buff in your free time, or simply like to read, the Humanities Scholars program offers a welcoming "home base" community within the university.
Apply
Discover the steps to apply for this program.
Contact
For more information regarding the Humanities Scholars program, contact the program coordinator, Ben Fortman at (614) 688-5457 or at fortman.24@osu.edu​.
All incoming Humanities Scholars take a Humanities Seminar course designed to establish community while featuring weekly humanities topics during the fall of their first year. Students will reflect upon and discuss their own personal humanities interests, learn about humanities opportunities on campus, participate in group activities and projects, and hear from guest speakers from across the university.
As part of the Seminar course, students will participate in the traditional Humanities Film project. Students work in a small group to create a short film that incorporates the humanities and aligns with a central theme. The project culminates with the Humanities Film Festival where student projects are shown and awards are presented to the outstanding entries.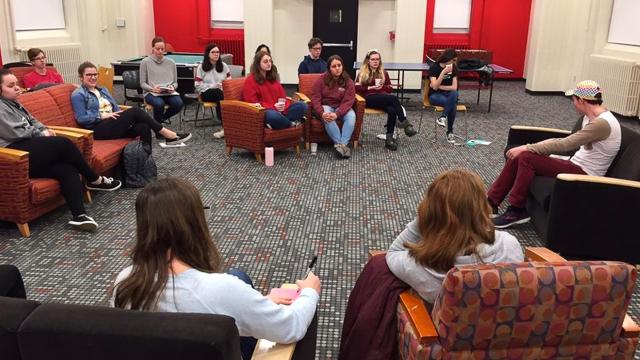 Humanities Scholars participate in beyond the classroom programming focusing on literature, language, philosophy, history, culture and other humanities disciplines. Throughout the year, students may attend the scheduled humanities themed events that interest them the most.
Past programs have included:

Dinner & Dialogue discussions with Ohio State faculty. 
Book Clubs with a "Banned" Book Club during the spring.
Doc & Talk film discussions. 
Halloween Food Drive service project. Students trick-or-treat for non-perishable food items that are donated to the Mid-Ohio Foodbank.
Cultural and Arts events around Columbus, including: the Short North Gallery Hop, Columbus Italian Festival, Greek Festival, Broadway in Columbus and the Columbus Museum of Art
Explore Columbus Day Trips
Humanities focused trips to cities such as Chicago and New York City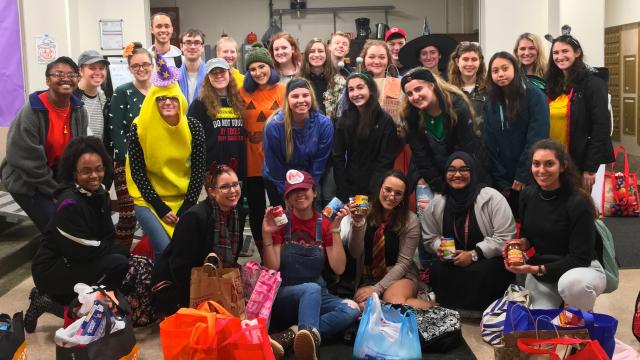 Each Scholars Program features a first-year residential community that provides students with a peer-network of high-ability students with similar interests. First-year Humanities Scholars students are given priority to live together in Baker Hall East.** Commuters are welcome to be a part of our Scholars programs.
**Please note that space in the prescribed residence halls is not guaranteed and students can be placed in other accommodations due to program demand if necessary.
Mentoring Program

First-year students are paired with upper class Humanities Scholars Mentors.  Activities and events are planned to allow Mentors and Mentees the opportunity to build meaningful relationships, and help assure a ​​smooth college transition.
Social Activities

Educational discussions, off campus trips, and frequent social activities, help all students connect with other Scholars who share similar humanities interests. Past social activities have included:

First-year student teambuilding retreat
Weekend lunch at the North Market
Winter Wildlights at the Columbus Zoo
Potluck & Movie Night
Cocoa & Cookie Study Break
Intramural Sports
Leadership Council

The Humanities Scholars Leadership Council acts as an advisory group to the Program Manager and is an outstanding opportunity for students to develop leadership skills. Leadership Council members are able to gain valuable project management and leadership experience as they brainstorm, create, and execute beyond the classroom programing for the entire Humanities Scholars community.​