Kuhn Honors and Scholars House is home to the University Honors and Scholars Center. It is named for Professor of English, Provost, and University Honors Director Emeritus Albert J. Kuhn, who retired from the University in 1988. 
​This Tudor-revival house dates back to 1925, when the Ohio State Board of Trustees approved plans to build a new residence for the university president. It was completed in 1926, at a cost of about $72,000. George Rightmire, the sixth Ohio State president, and his family became the first to live in the new University Residence, moving in during the summer of 1926. Ohio State presidents Howard Landis Beavis and Novice G. Fawcett also lived in the residence during their terms. 
In 1972, shortly before President Fawcett's retirement, the University Residence was moved off campus. The house was then used by a variety of university offices, including the National Center of Educational Media and Materials for the Handicapped and the College of Administrative Science (now the Fisher College of Business). In 1987, the University Honors and Scholars Center staff moved in. From 1991-92, the house was extensively remodeled to include new seminar and meeting rooms, student and staff office space, a conservatory, and a workroom.
Kuhn Honors and Scholars House is now a first-class facility for classes, studying, meetings, special events, and administration of the university's Honors and Scholars Program. It is your house, and we invite you to use it.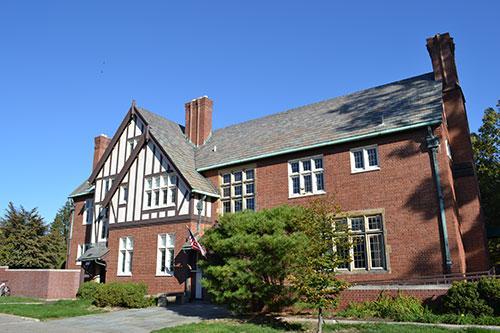 Reservations
To request a room reservation at the Kuhn Honors and Scholars House, please contact honors-scholars@osu.edu.
Internal requests only.