Biological Sciences Scholars engage in community activities centered around science and research. The living learning component involved in the Scholars program allows students to interact on both academic and social levels to support their success at Ohio State. 
In the Biological Sciences Scholars Program, students:
Explore research opportunities across campus
Prepare for career opportunities and/or graduate programs through mentoring, advising, and community activities
Interact with faculty and staff through research talks and Eat and Explore events
Discover and participate in service opportunities in the Columbus area
Apply
Discover the steps to apply for this program.
Contact
​​​For additional information about the Biological Sciences Scholars Program, you can contact Melissa Basford at 614-292-4347 or basford.18@osu.edu.
Students will take a seminar course during their first semester in the Biological Sciences Scholars program. Through this course, Scholars will explore science opportunities both at Ohio State and for future career paths, develop an understanding of what they need to do to prepare for research, graduate programs, etc., and connect with resources that will help support their success in the sciences.​
Common Majors

​While a large percentage of our students are majoring in a science related major, this is not a requirement for maintaining Scholars affiliation. Regardless of major, Biological Sciences Scholars should have a strong interest in being involved in the sciences as a part of their community. 

About half of our students are considering the health professions as a future goal. Others are considering careers in education, research, genetic counseling, forensics, conservation, etc., to name a few examples.
Scheduling

Students in the scholars programs receive college level priority scheduling which allows students to schedule classes at the beginning of their rank. 
Advising

The Program Manager provides guidance on health professional and science related graduate program preparation throughout their four years.
Research

Students can participate in undergraduate research as soon as students feel ready to engage in a lab or clinical setting, most typically during their second or third year. Research may be animal or plant related, molecular or organismal, lab or field based, on or off campus, scientific or clinical. Exposure is the key ingredient; students can use this exposure and experience to build their resume, follow career paths, or apply to graduate/professional school. Participation in the Biological Sciences Scholars program will help to build connections with faculty and peers that can lead to these research experiences.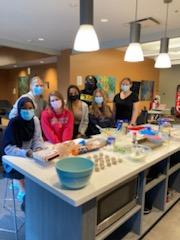 The Biological Sciences Scholars participate in a variety of activities focused on the biological sciences and research.
Past programming related to our program's theme include:

Regular research talks with the outstanding faculty at The Ohio State University. During these visits, students learn more about the research process and more specifically about the topics in that lab.
Eat and Explore sessions where students have the opportunity to eat and learn about post- college options in graduate/ professional schools and career paths.
Preparation for future opportunities through our Professional Development Series, which includes such sessions as personal statements, gap years, interview tips, etc. This series is co-hosted with STEM EE and Health Sciences Scholars.
Graduate and career panels. Skype sessions, and other Q&As where alumni from our program will talk about their experience after their time as an undergraduate.
Visits to science-related sites in the area, including the Franklin Park Conservatory, Newport Aquarium, The Wilds, The Research Institute: Nationwide Children's Hospital, The College of Medicine Clinical Skills Center, COSI, Byrd Polar Research Center, etc​..
Variety of community service events with such local partners as Dress for Success, NNEMAP Food Pantry, Equitas Health, Huckleberry House, Star House, the Ohio House Rabbit Rescue, and an annual adopt a family effort.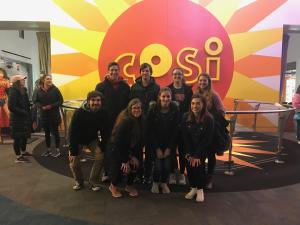 Each Scholars Program features a first-year residential community that provides students with a peer-network of high-ability students with similar interests. First-year Biological Sciences Scholars students are given priority to live together in Barrett House.** Commuters are welcome to be a part of our Scholars programs.
Barrett House is a smaller quad style building located on north campus. Barrett House's location is in close proximity to Chemistry courses and the 18th Avenue Library, a 24-hour science and engineering library.
**Please note that space in the prescribed residence halls is not guaranteed and students can be placed in other accommodations due to program demand if necessary.
Community Building Activities and Initiatives

Our mentor program, which connects interested first years with upperclassmen in our program who can help them connect in our community and ask questions of someone who has been through similar situations and academic paths.​​
After the first semester, students meet as a class twice a month for community meetings that feature various science related speakers.
Many social activities occur throughout the year, including wellness events, art nights, game nights, trivia, tours in Columbus, sporting events, etc.