The Dunn Sport and Wellness Scholars (DSWS) Program provides students with opportunities to develop their leadership style, network with professionals in their respective fields, and form relationships with their peers and the greater Dunn Scholars community.
By living together as a program freshman year, students form a close bond that carries throughout their time at Ohio State. With many events throughout the academic year, both professional and social in nature, students quickly identify ways to implement their interests into their undergraduate careers. 
First Year

As a first year Dunn Scholar, students will participate in DSWS Welcome Week programs right after moving in on campus geared towards creating instant connections with other first year and second year scholars. During this Welcome Week, they will be paired up with second year mentors, as well as fellow first year students into a DSWS "Family". They will engage in Family Programming events, Honors & Scholars sponsored events, DSWS sponsored socials, experiences, and trips throughout the academic year. Students are expected to enroll in the Dunn Sport and Wellness Scholars Seminar Course (SCHOLAR 1100.11), as well as the normative requirements including attendance at weekly meetings, maintaining a 3.0 GPA, and completing our Wellness Menu and a minimum of 10 hours of community service each semester. 
Second Year

For our second year Dunn Scholars, we have the same normative expectations with the addition of mentorship opportunities for first-year Scholars. Leadership opportunities such as Family Mentor and Leadership Council Representative are available, where students will receive first-hand experience with event planning, group facilitation, and other transformative experiences. Both first and second year scholars are encouraged to participate or support DSWS in the Scholars Intramural League, as well as attend DSWS sponsored events and Honors & Scholars events. 
Third/Fourth Year

Third and fourth year Dunn Scholars have the option to serve as a mentor for our first and second year scholars with whom they share fields of study or common interests. Our third and fourth years often volunteer at DSWS sponsored events, attend bi-monthly third and fourth year events, and are encouraged to join our Dunn Scholars Alumni Society following their graduation from The Ohio State University. 
Apply
Discover the steps to apply for this program.
First year Dunn Scholars enroll in a seminar course together, which focuses on leadership development, positive psychology, and dimensions of wellness as they apply to the theme of sport and wellness. Students will learn to apply their personal qualities, identities, and skills to their own style of leadership, as well as the 9 dimensions of wellness as defined by the OSU Student Wellness Center.
Common Majors

Dunn Scholars students come from a wide variety of backgrounds with an equally wide variety of post-graduation plans. Our program holds great value for any student with a passion for leadership and interests in sports and wellness. While not limited to this list, our most common majors include:

Athletic Training
Biology/Pre-Med
Business Administration
Engineering
Exploration
Exercise Science
Health Sciences
Journalism
Medical Dietetics
Nursing
Nutrition
Pre-Physical Therapy
Sport Industry ​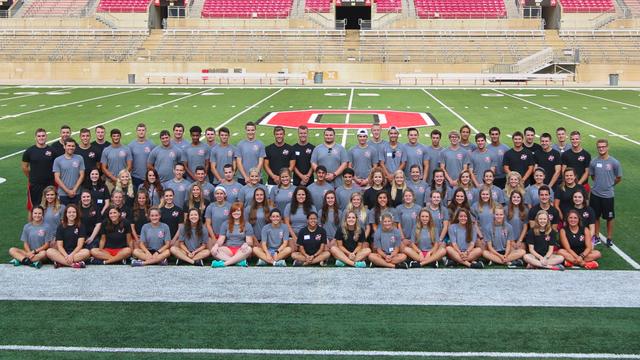 The DSWS program provides both curricular and co-curricular opportunities that enable students to develop the skills they needed to become leaders in the professional fields of sport, wellness, and beyond. 
Signature Programs

​​These programs allow students to grow holistically on a broad spectrum of developmental areas ranging from personal and professional development to leadership skills and a strong community network.

DSWS Welcome Week – After moving into Morrill Tower for fall semester, DSWS students participate in activities that are both sport related as well as focused on community development amongst their peers of first and second years. Students have the opportunity to build relationships, have fun, and adjust to campus before classes start.
Mentorship Programs – There are several opportunities within DSWS to both be mentored and serve as a mentor. Our family Program connects first and second years and allows incoming freshman to experience a smoother transition to college. Additionally, our 3rd & 4th Year Mentor Program connects upperclassmen with first and second years in the program to develop professionally and learn about opportunities beyond DSWS.
Weekly Meetings – At our required meetings, which rotate on a bi-weekly basis between first and second year scholars, we invite professionals from the Columbus area to provide our students with advice, internship information, and an opportunity to network.
DSWS Themed Socials – Halloween, Holiday, Valentines, and End of Year socials are always a hit with our students as a chance to take a break with their DSWS peers.
Sports Tournaments and Intramurals –  We offer several sporting tournaments throughout the semester exclusive to Dunn Scholars potentially including Kickball, Volleyball, Cornhole, and Dodgeball. Many of our students also participate in the Scholars Intramural League in sports such as flag football, softball, soccer, basketball, and volleyball.
Second Year Graduation – This culminating event honors our second-year scholars and their achievements during their time as active members of Dunn Scholars.
Columbus Sporting Events – We frequently offer opportunities for our students to attend Columbus Blue Jackets, Columbus Clippers, and Columbus Crew games together.
Each Scholars Program features a first-year residential community that provides students with a peer-network of high-ability students with similar interests. First-year Dunn Sport and Wellness Scholars students are given priority to live together in Morrill Tower on West Campus.** Commuters are welcome to be a part of our Scholars programs.
**Please note that space in the prescribed residence halls is not guaranteed and students can be placed in other accommodations due to program demand if necessary.
Community Activities

The majority of our DSWS events are held in the Recreational Physical Activity Center (RPAC) and Women's Field House, both just a short walk from Morrill Tower. These events include our Welcome Week programs, weekly meetings, second-year Leadership Council, DSWS Socials, and other professional and social events.