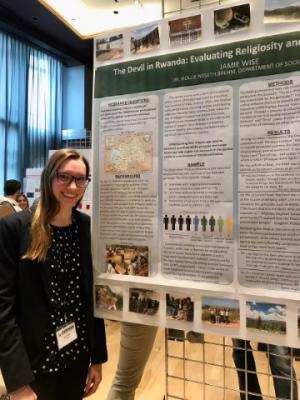 The Eminence experience is one of opportunity but also one of responsibility and commitment.
Students awarded the Eminence Scholarship are part of a select group of undergraduate Honors students that embark on a unique, four-year journey of academic rigor, service, and leadership. The program provides extraordinary opportunities and support for students that want to make a positive contribution to the world. Eminence Fellows demonstrate academic achievement, intellectual curiosity, high regard for humanity, and significant involvement both on and off campus.
While the program recognizes the value of learning as part of a community and facilitates opportunities to do so, individual goals and aspirations are nurtured.  Eminence Fellows go on to pursue advanced study at the nation's top graduate programs, gain admittance to competitive professional schools, and have garnered national awards including Rhodes, Marshall, Fulbright, Churchill, and Goldwater scholarships.  Fellows that enter the work force immediately upon graduation, draw from high-profile internships and are prepared to hit the ground running.
The Eminence Fellows Program invests in young leaders that strive to make a difference in the world.​