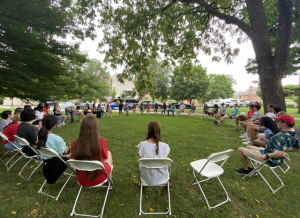 Program Involvement
As Stamps Scholars, students have many opportunities to meet with University and Community leaders, and build a community of peers through social and team building activities. Below are a few examples of what students will be involved in as a Stamps Scholar. 
Engagement
The Stamps Eminence Scholarship Program focuses engagement in four areas: 
Becoming an innovator
Making an impact through collaborative service
Cultivating inclusive spaces
Personal growth, enrichment, and wellbeing
First and Second Year Seminars
First and second year Stamps Scholars will take part in specialty seminar programing targeted to specific developmental outcomes.​
First year Stamps Scholars participate in the Eminence First-Year Seminar designed to strengthen community, increase resilience and success in college, and engage in constructive dialogue on how to make positive change in the world as rising leaders. Student learning outcomes include:
Understand the responsibility of being a Stamps Scholar

Increase knowledge of university and Eminence resources

Become proficient and effective communicators

Develop a working knowledge of research basics aimed at initial steps to connecting with faculty and beginning research

Better understand the social entrepreneurship model of the group service initiative

Create the foundation for their class service project​

Exploring diversity, intercultural engagement, and socially just leadership through participation with the Multicultural Center and the DICE certification process 
Sophomore Stamps Scholars will participate in the Second-Year Seminar which centers on professional development, individual goals, and career planning. Students will actively engage in creating their own professional development plan as they identify individual career paths and options. Student learning outcomes include:
Understanding the importance of having a personal mission statement

Understanding the Social Change Model of Leadership and using it to frame their work on the class service project

Communication aptitude including written, spoken, and virtual presentation skill work

Connecting involvement outside the classroom to academic and career path goals

Completion of a professional resume and online portfolio

Exploring diversity, intercultural engagement, and socially just leadership through participation with the Multicultural Center and the DICE certification process 
Eminence Leadership
There are many opportunities to lead within the Stamps Eminence Scholarship Program, although students are encouraged to pursue campus and community leadership positions as well. Eminence leadership positions include:
Program Ambassadors that assist with program recruitment initiatives and take a large role in Finalist Friday activities
Faculty Network Cohort Leads that work closely with the Eminence Faculty Leads in creating and organizing cohort events and activities
Retreat Committee which is responsible for facilitating the Eminence Second Year Retreat
Welcome Team – responsible for planning, organizing, and facilitating the Early Arrival Program for entering freshmen
Teaching Assistants – work closely with the Program Manager in helping to facilitate the first- and second-year seminars
Stamps Scholars are also encouraged to create new programming and have been involved in creating book clubs, social justice dialogue groups, Chill & Chat gatherings, and volunteer workgroups within the Columbus community.