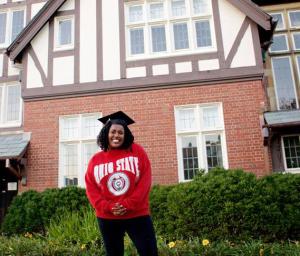 In 2017, The University Honors and Scholars Center established the Friends of Honors and Scholars. The Friends of Honors and Scholars brings together just a few of the many ways that our alumni, parents and buckeyes at heart can engage and support our students through various initiatives.
Whether you are an alumni, parent, or simply share our passion for supporting the efforts of the University Honors and Scholars Center, we thank you for your interest and investments that provide our creative and talented students with impactful opportunities today so that they may change our lives and the world.
Scholarships and Enrichment Grants
Through many generous donations, the University Honors and Scholars Center is able to award scholarship support to some of our best and brightest students. In addition to scholarships, the Center strives to find opportunities for students to challenge themselves beyond the classroom and financially assist those possibilities through enrichment grants. Through generous gifts and Center funding, the Center awarded over $100,000 in scholarships and grants for 2017-2018.
The Ohio State University Honors and Scholars Alumni Society
The Honors and Scholars Alumni Society consists of members of the Ohio State Alumni Association seeking opportunities to interact with other alumni and the Center through various activities such as service projects, professional development, networking events, reunions and more. 
Community Partnerships
Whether it is mentoring a student, providing an internship or taking the time to meet with students; Partners in the Columbus community are crucial in providing our students with impactful learning experiences outside the classroom. The Center values and foster relationships with companies and individuals committed to providing opportunities to our students that allow them to refine their professional skills and gain a competitive edge.​