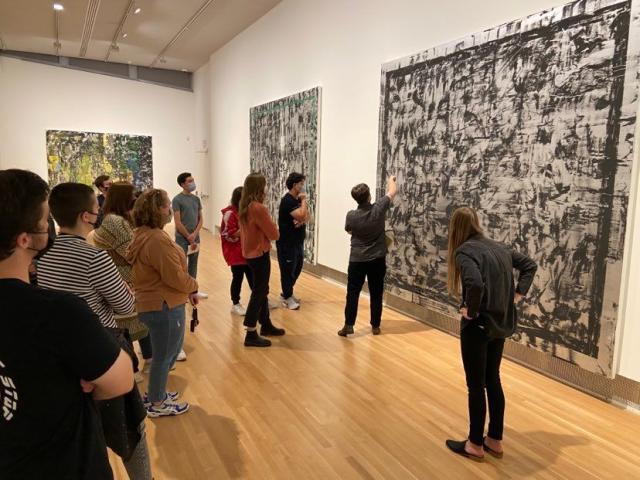 The Arts Scholars Program enables select students with strong interest in the disciplines of art, music, theatre, dance, design, fashion, creative writing, and more to collaborate creating an arts focused community for intellectual, social, and civic development.
Students in the Arts Scholars program may have a major in any university college or department. The program offers students the opportunity to participate in programs that enhance their educational experience. These programs include lectures and specialized workshops, group excursions to museums and professional performances, a juried student art exhibition and performance showcase, community involvement, and trips outside of Columbus.

The Arts Scholars family consists of approximately 100 first-year students and 200 upper-level students who commit to completing minimal expectations across their four-year undergraduate career at The Ohio State University. Fifty percent of the students in the program are majoring in the arts such as Art, Art Education, Art & Technology, Visual Communication Design, Music Performance, Music Education, Dance, Theatre, and History of Art. The other 50 percent are majoring in disciplines across the university such as Engineering, English, Biology, Food Science, Business, Spanish, and Psychology. Finding a pre-med ballerina, a guitar-jamming engineer, or a fine artist business student is easy amongst our community.​​​
Values of the Arts Scholars Program

Interdisciplinary Arts: respect and learn about all arts disciplines
Family: bond with and support one another through your college career
Diversity: appreciate other perspectives, backgrounds, and identities
Service: support the arts through time, talent, and treasure
Art for Life: keep connected with the arts through career or civic involvement
Benefits of the Arts Scholars Program

Member of a select community of students (called the Arts Scholars Family)
College-level priority scheduling (your scheduling appointment time window will open before other students in your rank)
Program Manager and Graduate Administrative Associate staff here to assist you with navigating Ohio State
Weekly communication about interesting opportunities on campus (it's a big place, we help funnel the information for what you really want)
Upper-level Peer Mentor to help guide your first year at Ohio State
Special programming designed for your interest in the arts
Discount concert and show tickets each semester
Discounted trips (e.g. New York City, Washington DC, Pittsburgh, Chicago)
Participation in service-learning opportunities connecting the arts to service
Exclusive participation in the annual juried exhibition and cabaret showcase
Connection to the arts community within Columbus and Ohio (opportunities for personal growth and learning outside of campus)​
Apply
Discover the steps to apply for this program.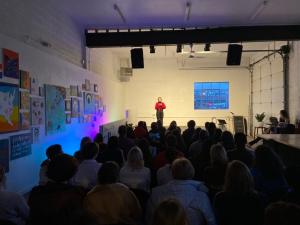 Contact
For more information on the Arts Scholars Program, please contact program manager, Roman Suer at suer.13@osu.edu.
Arts Scholars have the opportunity to engage with faculty, staff, and community leaders inside and outside of the classroom as first year students. The programs offered compliment what students are learning in the classroom and offer personal connection that other students do not find.
First-Year Seminar Course​
This seminar course is designed for first year Arts Scholars to explore personal arts interests, interdisciplinary opportunities, campus and local community arts resources, and cultural topics in the arts.  Taught by the Arts Scholars Program Manager and assisted by a graduate student and current Arts Scholars, the course will cover all arts opportunities on campus and introduce students to leadership, strengths, and career exploration.
Course Objectives

Understand the requirements and expectations of being an Arts Scholars

Understand the five G.O.A.L.S. of the University Honors & Scholars Center

Have an awareness of the different academic and career opportunities related to the arts

Learn to navigate the various arts-related and campus resources at The Ohio State University

Get connected to the greater arts and cultural community outside of campus

Develop a close relationship with the Scholars Program staff and other Scholars students
Course Topics

Building an Arts Community
Defining Art: Who decides?
Theatre Exercises
Tour the Wexner Center for the Arts
Learn about connections between Health and the Arts
Arts and Advocacy
The Importance of Diversity in the Arts
Visual Art Skill-Building
And much more!
Course Assignments

Journals
Small Group Short North Adventure
Small Group Creative Collaborations
Personality Collage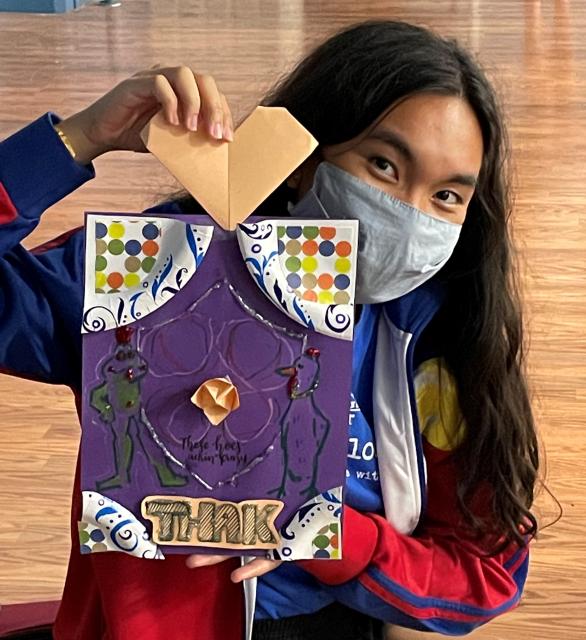 Arts Scholars participate in a variety of events throughout the year – some of which require no skill in the arts while others help to highlight the amazing skills we possess.  Most activities are just options so that students can select what programs and events most interest them.
Signature Programs

Annual Juried Art Exhibition – Since the opening of the OSU Urban Arts Space in downtown Columbus, the Arts Scholars have been showcasing their talent with an annual juried exhibition. Approximately 12-15 pieces are selected each year and one piece is selected as Best In Show to receive a $1,000 scholarship from the Aida Cannarsa Snow Endowment Fund.  See current exhibitions at the Urban Arts Space here (http://uas.osu.edu)
Annual Spring Showcase – Each spring, there is a performance show to allow performing artists the opportunity to highlight their talents.  This tradition is now held at the Wild Goose Creative in the Franklinton Arts District. Previous acts have included solo dance, stand-up comedy, jazz bands, solo singing with guitar, flute trio, and group dance.
New York City – Arts Scholars travel to New York City each year to meet with alumni working in the arts, see Broadway shows, visit museums, and learn how to navigate the city. Students in the past have met with arts leaders and toured museums at: Guggenheim Museum, American Museum of Natural History, Metropolitan Museum of Art, Radio City Music Hall, and more. Students have met with alumni and obtained internships at Dave Wilson Retail Marketing Solutions, Victoria Secret, Razor & Tie Entertainment, and many more.
Scholars Break Down - The Scholars Break Down is a workshop series designed to empower scholars who enjoy sharing their passion and expertise in the arts with their peers. Instructors lead the class that they envision and build community with like-minded scholars in the process. Enrolled scholars may aim to develop existing skills in the arts or learn an entirely new one!
Traditional Programs

Gallery Hop – Students organize groups to visit the Columbus Arts District just blocks from campus called the Short North during the first Saturday of each month.  Art galleries and boutique shops open their doors later for special openings and events.
Fall Coffeehouse – Students perform spoken word, dance, music, and theatrical pieces for their peers in the comfort of their residence hall performance stage. All Baker residents are welcomed to perform. The Arts Scholars/Baker West Buckeyethon team hosts a fundraiser for Nationwide Children's Hospital at the event.
Baker West Gallery -  The Baker West Lobby transforms into a gallery space that reflects the program's visual artists personalities and talents. This is a fun opportunity for students to share their work in their home on campus!
Broadway in Columbus – Students enjoy seeing Broadway shows in Columbus.
Volunteer and Service

Buckeyethon – Arts Scholars participate in Ohio State's 24-hour dance marathon to raise money for the Children's Miracle Network at Nationwide Children's Hospital.  We have raised over $5,000 in the past.
Bunny Socialization – Join your fellow Art Scholars in an opportunity to help socialize bunnies who are looking to be adopted! Socializing bunnies involves talking to and petting the bunnies and simply getting them used to human interaction.
Community Commitment – Arts Scholars join the Community Commitment effort organized by campus organization, Pay It Forward and join service activities across the city of Columbus for a great way to meet new people and learn about new service opportunities.
Career Development

Career Workshops – Each semester, a series of career workshops focusing on resume and cover letter writing, networking, interviewing, and job searching are provided for students.  Some arts-specific programs include putting together a portfolio and mock auditions. 
Networking Opportunities – Students have a variety of options to meet leaders and managers of arts and non-profit organizations to learn about job and internship opportunities in addition to networking with upper-level students to find out about opportunities.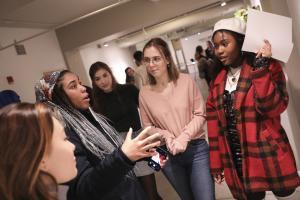 Each Scholars Program features a first-year residential community that provides students with a peer-network of high-ability students with similar interests. First-year Art Scholars students are given priority to live together in Baker Hall West, the Visual and Performing Arts residence hall.** Commuters are welcome to be a part of our Scholars programs. Art Scholars benefit from the resources contained within Baker Hall West, such as a large performance space, dance room, music practice ​rooms, and an art and design room.
**Please note that space in the prescribed residence halls is not guaranteed and students can be placed in other accommodations due to program demand if necessary.
Community Meetings

The Arts Scholars Family (consisting of staff members, students, and sometimes speakers and guests) meets bi-weekly throughout the year in the Baker Hall West Performance Space. These meetings are used to give announcements, sign-up for events, introduce speakers from around campus and in the community, and allow for networking amongst students in the program.
Mentorship Program

To encourage a strong cohesive community that crosses years, incoming students are matched to an upper-level student who has been trained in serving as a resource and mentor to new Ohio State students. Students are encouraged to attend events and meetings together through the mentor program. Upper-level students are referred to as "BIGs" and incoming students are "littles."  Students are matched based upon both academic and personal interests.
Family Activities

First Year Retreat – All incoming students join together on the day after move-in to bond and learn about the program before classes begin.  Students meet their upper-level mentor (called "BIG") and are welcomed into the Arts Scholars Family through this annual retreat.
Family Week – To celebrate the complete family, a series of programs are held each fall to highlight the BIG/little mentor program.  Activities have included: Tye-dye Party, Family Find Scavenger Hunt, Family Feud, and attending the OSU Marching Band's Skull Session prior to that week's football game.  Each BIG is expected to plan a "Family Dinner" that week for their littles and take a "Family Photo" to be judged for creativity.
Family Tree Planting – A newer tradition connecting Arts Scholars with Chadwick Arboretum & Learning Gardens where you and members of your Family plant small seedling trees and tour the arboretum and gardens.
Arts Leaders Council

A council of 15-20 current students serves as both an advisory board to the program staff and as a programming board to manage events. Students on the council learn leadership skills such as communication marketing, event management, organization, public speaking, diversity, and time management. First year students are allowed to apply for the Arts Leaders Council during their first semester.