Ohio State University student Oseremhen "Ose" Arheghan has been awarded a 2021 Harry S. Truman Scholarship.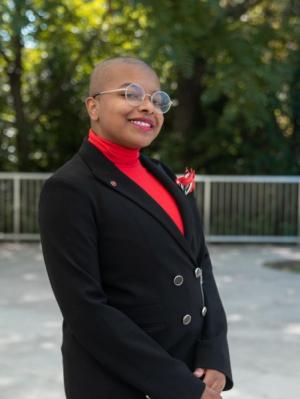 Arheghan, a third-year political science and Chinese major, is one of 62 students selected for this prestigious honor from 845 candidates who were nominated by 328 colleges and universities – a record number of applicants. Scholars are recommended by 17 independent selection panels based on the finalists' academic success and leadership accomplishments, as well as their potential as future public service leaders.
"The Truman Scholarship is one of the most prestigious awards that you can win as a third-year student, particularly as a third-year student interested in public service," Arheghan said. "I feel really affirmed about my career path. It feels really good to see folks who are established in their careers say, 'OK, I see what you're doing, I see the path that you're on and I want to support you on this path because I think you're going to go far.'"
Established by Congress in 1975 as a living memorial to President Harry S. Truman, the Truman Scholarship is intended to support and encourage the next generation of public service leaders. Truman Scholars demonstrate outstanding leadership potential, a commitment to a career in government or the nonprofit sector, and academic excellence.
Each Truman Scholar receives funding for graduate studies, leadership training, and career counseling, as well as internship and fellowship opportunities within the federal government.
Ohio State leaders recently surprised Arheghan with the news of the scholarship.
"Ose truly embodies the Truman Foundation's core mission to foster the next generation of leaders – especially those from diverse backgrounds – and help pave their way to a successful public service career," said President Kristina M. Johnson. "We have seen firsthand Ose's deep and abiding commitment to leadership and service at Ohio State, and I look forward to seeing all that the future has in store for them. Congratulations, Ose, on this wonderful accomplishment."
Executive Vice President and Provost Bruce A. McPheron echoed the president's sentiments, adding:
"Ose, you've already proven yourself to be a leader on our campus and beyond, and we're so proud that the Truman Foundation is going to be supporting your continued work as you prepare for a career in public service. You represent the best of Ohio State, and I'm so proud that you are part of our Buckeye community."
A Morrill Scholar from Shaker Heights, Ohio, Arheghan has been committed to leadership, diversity and inclusion since choosing Ohio State. They have led as the chair and co-founder of the Undergraduate Black Caucus and a cohort leader for the Queer and Trans People of Color Cohort at Ohio State.
"Metaphorically, I'm going to give you a hug on behalf of the Office of Diversity and Inclusion and its world-class Morrill Scholarship program," said Vice Provost for Diversity and Inclusion and Chief Diversity Officer James L. Moore III. "I can't think of anyone better to receive this award."
Arheghan credits their mom, Terri, as an inspiration and a supporter for advocacy and commitment to service.
"When I grew up, my mom always told me that as an individual who is carrying many minority identities, it's really important that I'm able to verbalize what I need and to be able to advocate for that. And that might not always be easy, but it is always necessary," Arheghan said.
Arheghan said they have worked to help students break down barriers to build a more inclusive and supportive campus – an effort they hope to pursue following graduation.
Internships with the U.S Department of State and Canadian Parliament have helped prepare Arheghan for their planned career in the U.S. Foreign Service.
"I'm at this place where I'm trying to figure out how do I best take the tools that I've been able to sharpen as a youth advocate and turn those into a career and turn that into what I'm going to do with the rest of my life," they said. "I settled on diplomacy because it's this idea that you're advocating for these tenets that you believe in: democracy, human rights, peace."
Ohio State may nominate up to four students for the Truman Scholarship each year. The nomination is held annually through the Undergraduate Fellowship Office, and interested students may contact the Truman campus representative, Corey Efron, at fellowships@osu.edu.
Written by Chris Booker
Ohio State News
booker.9@osu.edu
614.292.7276