An Ohio State undergraduate student has been recognized by the Barry M. Goldwater Scholarship and Excellence in Education Program. Junior Mitchell Ticoras was named a 2021 Goldwater Scholar, the most prestigious national award for undergraduate researchers in science, math, and engineering. Goldwater Scholars receive an award to cover the cost of tuition, fees, books, and room and board up to a maximum of $7,500.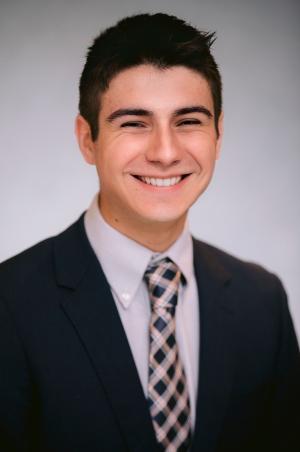 Ticoras, an honors student and Maximus Scholar majoring in molecular genetics with a minor in environmental sciences, plans to conduct research on plants as potential carbon reservoirs to combat global climate change. "Engineering certain genetic modifications into plant models would not only allow for increased agricultural yields from crops," Ticoras explains, "but they would also serve as a means for sequestering larger quantities of carbon dioxide out of the atmosphere." Ticoras recognizes that "while this type of genetic editing is incredibly difficult, it has the potential to help solve issues like excess soil erosion resulting from the over usage of land and greenhouse gas related climate change."
Ticoras is currently working on a research project studying reactive oxygen species (ROS) production in mitochondrial mutants of the green alga Chlamydomonas reinhardtii as well as possible connections between ROS and other metabolic/cellular malfunction. This project, in addition to his work documenting novel mitochondrial mutations, will serve as the basis for Ticoras' honors thesis under the guidance of Dr. Patrice Hamel. Ticoras has received additional mentorship from the University of Florida's Dr. Nitya Subrahmanian, and OSU's Dr. Andrew Castonguay and Dr. Anita Hopper.   
Prior to his Goldwater Scholarship, Ticoras was awarded an Erasmus+ Scholarship from the European Commission (program canceled due to COVID-19), an OSU Undergraduate Summer Research Fellowship from the Center for Applied Plant Sciences (iCAPS), an OSU College of Arts and Sciences Honors Program Undergraduate Research Scholarship, and a Type-1 for 69 years Diabetes Scholar Foundation Scholarship. Ticoras is the vice president of the OSU Molecular Genetics Club and a student mentor for the molecular genetics department. Ticoras intends to pursue a PhD in molecular genetics to work toward his goals of researching plant metabolism and teaching at the university level.
410 scholarships were awarded to sophomores and juniors on the basis of academic merit from a field of 1,256 mathematics, science, and engineering students who were nominated by colleges and universities nationwide. Each institution may only nominate four students for this award.  Since the award's inception in 1986, Ohio State has produced 65 Goldwater Scholars; fifty-seven of the university's last sixty-four nominees have been recognized as a scholar or honorable mention.
For more information on the Goldwater Scholarship, please visit goldwater.scholarsapply.org. Students interested in applying for the Goldwater Scholarship or other nationally competitive awards should contact fellowships@osu.edu.