With spring around the corner, many students at The Ohio State University are preparing resumes and portfolios to present to graduate schools and potential employers. The ePortfolio platform provides a central location for all Ohio State students, faculty and staff to showcase their academic and professional achievements.
At the beginning of the current school year, Ohio State launched new general education courses. The first course in the new framework, the Launch Seminar, and the culminating capstone course, the Reflection Seminar, prompt students to use the ePortfolio platform to reflect upon their college experiences.
"We want students to be thinking intentionally about their academic experiences in general education, how it impacts their understanding of their major, and their understanding of the world more broadly," said Meg Daly, associate dean for Undergraduate Education. "EPortfolio gives us a place to collect some of that material."
EPortfolios are considered a high-impact practice in higher education, and Ohio State is the first to implement a university-wide ePortfolio at a large scale.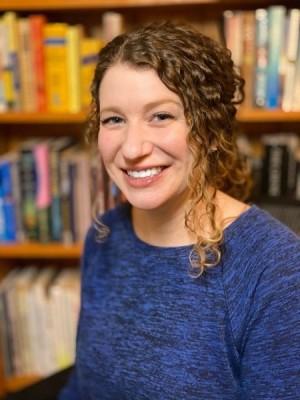 "It's kind of rare that students get the opportunity to have this kind of space and time for reflection that ultimately can inform their meaning-making of their current experience and what they hope to accomplish in the future, whether that's academically or beyond with careers," said Laura Struve, ePortfolio specialist for the Office of Academic Enrichment. "The ePortfolio is a place where they have carved out space and time to make that reflection happen."
Ohio State's ePortfolio platform, powered by PebblePad, allows instructors and program leaders to create and share resources such as workbooks and templates, which guide students through learning experiences. EPortfolios have been used by the Ohio State Honors & Scholars Center for several years, and successes from this program were used in the university-wide implementation.
"It's not only recording (students') accomplishments, but then asking some prompts that we hope inspire them to think about: Why does this accomplishment matter? What does it mean to you?" said Julie Humbel-Courtney, University Honors and Scholars program director. "How would you describe this to someone who isn't familiar with maybe this problem of practice or this research that you're involved in? How would you explain it in layman's terms?"
With ePortfolio, students can include a variety of representations of their work and experiences, including documents, audio files, video links, graphics and more.
Shayla Frederick, a first-year engineering student, said the ePortfolio platform can serve as a personal branding tool.
"I think the idea of, in essence, having your own website is pretty useful, especially for people trying to list all their achievements to employers," she said. "Let's take, for example, computer science majors who will have different programs and projects that they've made and they want to display that somewhere, but they don't know how. They could use ePortfolio to do that."
EPortfolio enables students to figure out how all the different parts of their college experience fit together, Humbel-Courtney said.
"The ePortfolio is something that they can take with them and download to a link that they could share with potential graduate schools, professional schools or employers," she said, "so they could come in and look at and see what the student did over the year or over their time here at Ohio State."