Sonam Rustagi experienced first-day jitters like many other new students attending a large university.  
"I remember being scared that I wouldn't be able to keep up with work and make it as a college student." 
Over the past four years, the senior overcame those nerves by taking advantage of different experiences at The Ohio State University. She credits the nerves falling by the wayside to the help of family, friends and professors.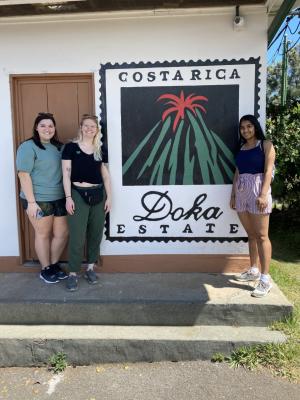 "There are so many professors and staff members who have served as valuable mentors and friends to me at Ohio State. Rebecca Ward with Eminence Fellows, Dr. Rattan Lal, my research advisor, Dr. Nick Kawa, Dr. Ian Sheldon, Dr. Glennon Sweeney, and so many more have been influential in my experiences here." 
The economics and environmental studies double major with a minor in public policy also studied abroad in Coast Rica to learn about sustainable agriculture. While she enjoyed her time there, it was cut short because of the COVID-19 pandemic, but some of her other memorable college experiences started with the University Honors Program. Rustagi says living in the Honors residence hall during her first year helped form several friendships and the Honors curriculum expanded the variety of courses she was exposed to.  
"Last semester I took a class taught by [Ohio State President] Dr. Kristina Johnson, the class was focused on project-based sustainability solutions and decreasing Ohio State's carbon footprint, and it was fascinating to get insight into sustainability efforts and university processes and initiatives from Dr. Johnson."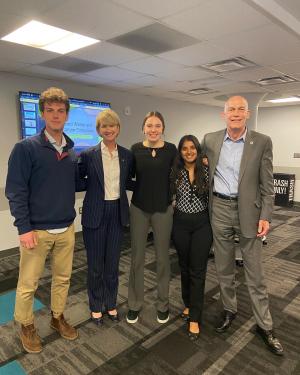 To make changes in sustainability, Rustagi used the collaborative spirit of giving back in the Eminence Fellows Program to help develop Cultivate Columbus. The organization promotes sustainable practices, nourishes communities, and enhances food security. Rustagi says Eminence Fellows provides enriching opportunities and it has expanded her academic and experiential learning experiences. 
Those memorable experiences also include her involvement in student organizations like Cultivate Columbus, Buckeye Leadership Fellows and BuckeyeThon. Rustagi has been involved with BuckeyeThon since high school, but she still accomplished something new with the organization during her senior year at Ohio State. She joined the leadership team and became the first executive director of Diversity and Inclusion which allowed her to establish what the role oversees and how it will contribute to the future of BuckeyeThon. While Rustagi found organizations aligned with her passions, she says other students have a chance to give back by finding what is important to them. 
"The wonderful thing about Ohio State is there are already so many organizations that exist and in Columbus, there are a lot of nonprofits that are centered around giving back or if you want to go your own route you can create your organization. I encourage people to explore and find what truly drives them through their core values because that's what leads to the most dedication."   
The changemaker continued those efforts to pursue what is important to her last year when she was encouraged to apply for the Udall Undergraduate Scholarship which she was awarded after writing about her passion for the environment, agriculture and making a difference in systems. The then-junior spent a weekend with other Udall Scholars in Tucson, Arizona where she says she was exposed to other issues in environmental sciences in indigenous communities. She learned how indigenous communities are impacted by policies and the environment around them. 
"After Ohio State, I'm hoping to try to make a change [and] give back to the public in a way that I'm passionate about. I feel like I'm driven by giving back and I feel like Ohio State has prepared me for that." 
Once Rustagi graduates in May, she hopes to work in environmental organizing and environmental policy. She will also attend Harvard Law School in the fall of 2025 to pursue a legal education.