Laura Gaines is an Honors student who knew what she wanted from her college experience before she decided to attend The Ohio State University. When Gaines arrived on campus, she found experiences, opportunities, and relationships she never dreamed.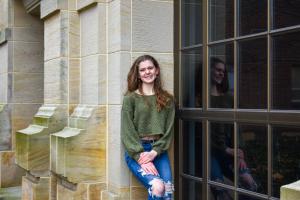 Why did you choose The Ohio State University?
I wanted to work in data analysis and Ohio State was one of the few schools that offered a data analytics major. Combined with the amazing feeling I got when I visited campus, I knew Ohio State was for me.
Why did you pick Honors and Scholars?
 
I picked Honors and Scholars because I was an AP and Honors student in high school. I really wanted to seek out academic rigor. Also, I loved the advantages of priority scheduling and smaller class sizes. There is also a great community that Honors builds through the residence halls and the programming it puts on.
 
How has the Honors Program contributed to your college experience?
I think the biggest contribution Honors has made to my college experience is the relationships I've made. My first experience at Ohio State was an Honors trip through the Outdoor Adventure Center. I met my roommate and boyfriend on that trip. I also work at the Kuhn Honors and Scholars House. My work has consistently been one of my favorite parts of my Ohio State experience. I can't imagine what my time here would've been like if I wasn't able to form these bonds.
What does #TogetherAsBuckeyes mean to you?
#TogetherAsBuckeyes to me means that we all work as Buckeyes, past, present, and future, to practice safe and healthy methods to slow the spread of Covid-19. We are working together to protect one another.
Are there any professors or staff who have helped you?
Dr. Sebastian Kurtek is an absolutely amazing professor. Dr. Kurtek is a great person to talk with about anything, and I've really appreciated being able to go to him for help even after I completed his class. I definitely need to give a shout-out to my wonderful Honors advisor, Joanna Spanos too. She has helped me with so many decisions, made me realize what I need to do for myself, and she genuinely cares for her students. I definitely wouldn't be where I am without her, and I'm so, so grateful for her guidance.
What are your goals and plans for the future?
After graduation, I plan to get a full-time job as a statistician or data analyst, potentially in Columbus.