The Ohio State University checked a lot of Meredith Jones's boxes when she was looking at schools. But, her first step on The Oval was when Jones knew she had found a home. Besides a home, Jones found support in her Biological Sciences Scholars Program and her life passions.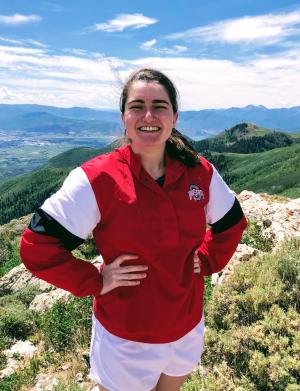 Why did you choose The Ohio State University?
I'm originally from Iowa, so the Midwest has always had a special place in my heart. When I was looking at schools, living in a big city was important to me. While Ohio State checked so many other boxes for me, I will never forget the moment I walked out of the Ohio Union and onto The Oval for the first time. I've moved six times over the course of my life and being on The Oval was truly the first time I ever felt at home.
Why did you choose neuroscience as a major?
I chose neuroscience as my major because mental health has had such an impact on my life. I want to do research on the intersectionality of mental health with the environment and genetics.
How has The Ohio State Scholars Program contributed to your college experience?
Scholars has opened so many doors in terms of leadership experiences, as well as experiences both on campus and in the city. I've become so much more comfortable going downtown, and I know that my college experience wouldn't be the same without my Scholars community.
What is your why for wearing a mask?
I wear a mask because I would expect the same of others. Having asthma means that I'm technically "high risk." There are so many others out there who are just like me. I wear a mask because I believe that you should treat others how you would want to be treated.
What does #TogetherAsBuckeyes mean to you?
It means that I finally get to come back home. Being on The Oval again has made me the happiest woman in the world. Masks enable me to be with everyone I love here at Ohio State. Masks allow me to be in my favorite part of the country and to be together with my fellow Buckeyes.
Are there any professors or staff who have helped you?
I adore my academic advisor, Anthony Rivello. Next to my family, he has been one of my biggest cheerleaders since day one. That's something unique about the neuroscience major; the advisors become like family to you. As cheesy as it sounds, I also really love Melissa Basford, the Biological Sciences Scholars Program Manager. She's just such a sweet, kind person who truly loves her job. She made me feel safe and welcomed the first few times my Scholars group went to downtown Columbus. She has helped me grow and discover my goals as a person. Ohio State has no shortage of extraordinary people and I'm really blessed that these two people believe in me and cheer me on no matter what.
What are your goals and plans for the future?
I want to get my Ph.D. in Neuroscience and become a professor at a Big 10 University. It would be a dream come true to be able to do research while also teaching.