Amy Smith came to The Ohio State University and expanded her perspective and focus. Now, Smith looks forward to a future where she can help others discover new perspectives and their roles in the world.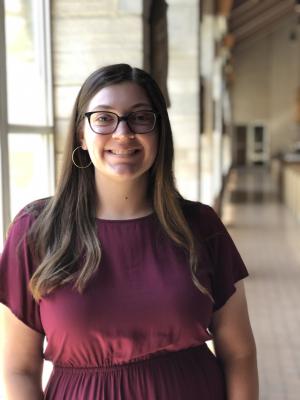 Why did you choose The Ohio State University?
Ohio State provided vast opportunities, both academically and socially, to mold my own college experience. I loved all of the resources and different communities that existed throughout the campus. Ohio State provided options to navigate my interests and how they can be transferred into an academic and career-focused space.
Why did you pick Honors and Scholars?
 
I chose Honors and Scholars because I wanted to participate in a specific community alongside students with similar interests. Scholars allowed me to expand upon my passion for the humanities, both with on-campus and off-campus opportunities. I wanted to push myself to meet new people and take advantage of what Ohio State has to offer.
 
How has the Honors and Scholars Program contributed to your college experience?
Honors and Scholars has provided friendships and opportunities that I would never have expected. From exploring different cultural festivals and going to events in the arts to having movie nights with people in my hall and building friendships, the Humanities Scholars Program has ultimately shaped my college experience. It has helped me connect with new people, learn about people and cultures outside of myself, and explore what is possible at Ohio State. Scholars has shown me the unique and diverse people and opportunities that coexist on this campus.
Why did you pick your major?
History has let me learn and explore cultures and identities different than my own, educating me on experiences that have continued to be overlooked. It challenges me to analyze what I have come to know through a critical lens, pushing me to acknowledge various aspects and perspectives to what our society has labeled as history.
Are there any professors or staff who have helped you?
Dr. Hasan Jeffries has challenged me to think beyond myself and looking past the surface. His idea of facing the reality of the past and acknowledging it for what it is worth has pushed me to question my biases and critique what has become normalized or the standard narrative of certain histories in our country.
What does #TogetherAsBuckeyes mean to you?
#TogetherAsBuckeyes means that as a community, we will work towards a better experience not only on campus but in society. Ohio State has a large presence, not only in Ohio but throughout the country, so uniting in our common identity to reach a goal can create a force for change. Our university is rooted in comradely and collaboration, so adopting our traditions towards ending covid can unite Buckeye's past and present in an effort to better our country.
What are your goals and plans for the future?
I am planning on attending graduate school to get a master's in higher education and student affairs. I hope to work at a larger university in admissions, orientation, or academic advising in order to enhance and support the college experience for various identities.