Chris Huffman grew up in a family of Buckeyes. When he learned about the opportunities at The Ohio State University, he knew it was for him. When Huffman arrived on campus, he grew his Buckeye family through the Dunn Sport and Wellness Scholars (DSWS) and discovered new passions.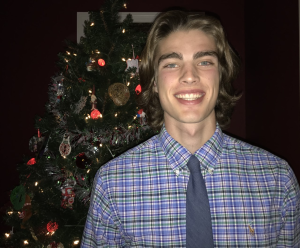 Why did you choose The Ohio State University?
Ohio State holds a significant place in my family history, so I grew up around Ohio State. When I visited campus and learned about all the opportunities, I was sold. I was deciding between a business or medicine path. Ultimately, I discovered the health sciences major on a physician assistant track was the best fit for me.
How has the Honors and Scholars Program contributed to your college experience?
Honors and Scholars has enhanced my college experience in many ways, the biggest being the people. I have met fantastic people through Honors and Scholars, from close friends to university leaders. The conversations, interactions and relationship development I have done over the past few years is an irreplaceable part of my Ohio State experience.
What does #TogetherAsBuckeyes mean to you?
#TogetherAsBuckeyes means the Ohio State community of students and faculty are doing everything we can to keep our campus and Columbus safe.
Are there any professors or staff who have helped you?
My English professor, Yanar Hashlamon, was a brilliant teacher and vital to my early university experience. Hashlamon made us feel valued by meeting with each of us individually. Ultimately, he showed me that professors do care about the well-being and success of their students at the university level.
What are some of your most memorable moments at Ohio State?
I'll always cherish my first year in Morrill Tower. Also, being a member of the TEDxOhioStateUniversity event team when we put on our Magnify event in 2020 was one of the most fulfilling days I've had at Ohio State.
What are your goals and plans for the future?
My future plans involve graduation from undergrad and then pursuing a career as a physician assistant.