The Ohio State University alumna Laila Ujayli has been named a 2019 Rhodes Scholar. The Rhodes Scholarship was founded in 1902, and supports graduate study at the University of Oxford in the United Kingdom. Thirty-two scholarships are awarded annually to outstanding seniors and recent graduates across the United States. The Rhodes Trust selected Ujayli for her commitment to advocating for policies benefitting immigrants and refugees, her drive to encourage diplomatic rather than military interventions, and her ingenuity in using film and literature to increase mutual understanding between the Western and Arab worlds.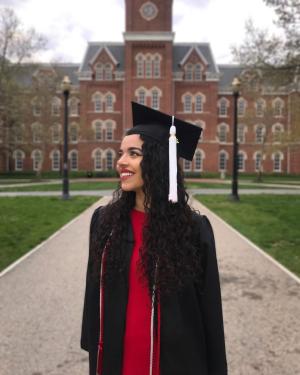 As a University Honors undergraduate student, Herbert Scoville Jr. Peace Fellow, and recipient of Ohio State's Morrill Scholarship, Ujayli graduated summa cum laude in 2018 with honors, double majoring in international relations and English, with minors in screenwriting and general business. Ujayli completed an honors research thesis on social change in modernist Turkish literature. She was a member of the Honors Collegium and served as a College of Arts and Sciences Peer Mentor at The Ohio State University. 

Ujayli's passion for international diplomacy and refugee rights stems from her time spent visiting family in Syria and her five years living in Saudi Arabia. Having witnessed the devastation of the Syrian civil war and the waning optimism and subsequent human rights violations in the wake of the 2011 Arab Spring, Ujayli became determined to pursue a course of education leading to a career in international policy.  

While Ujayli aspires to inspire meaningful change in the realm of international politics, she also aims to combat negative and simplistic depictions of Arabs and Muslims in the media. During her time at Ohio State, Ujayli realized she could accomplish this while pursuing her love of stories through the study of narrative forms. "My screenwriting minor often raises eyebrows," Ujayli explains, "but I discovered how significantly the cultural realm influences our understanding of international relations. The stories we tell about crises can determine our political will to engage, the types of solutions we pursue, and whether we center the voices of victims."  Ujayli's screenplay, "The Last Librarian in Raqqa," was named a finalist for the Shore Script's Short Film award, an international competition. She has also drafted a feature-length epic screenplay on Abd al-Rahman I, the founder of the Umayyad dynasty in the eighth century. Additionally, Ujayli serves as a sensitivity reader, providing feedback on unpublished manuscripts for Western authors seeking to improve their representations of minority characters. 

Ujayli is currently working in Washington, D.C. as a Scoville Jr. Peace Fellow, one of only four fellows named for her cohort. As a Scoville Fellow, Ujayli is working at Win Without War advocating for alternatives to military intervention.  

As a Rhodes Scholar, Ujayli will pursue a Master of Science (MSc) degree in refugee and forced migration studies and a Master of Studies (MSt) in world literature. She will study the conflicts that drive displacement and narratives of displacement. After ear​ning her degrees at Oxford, Ujayli will return to the United States to attend law school so that she may achieve her goal of utilizing victims' stories to drive the creation of foreign policy. 

Ujayli is Ohio State's seventh Rhodes Scholar; the university's last Scholar was Ilhan Dahir in 2015. Ohio State University students interested in pursuing the Rhodes Scholarship or other national fellowship opportunities should contact the Undergraduate Fellowship Office located within the University Honors & Scholars Center, fellowships.osu.edu​. More information on the Rhodes Scholarship can be found through the Rhodes Trust, rhodesscholar.org​.