Before an exam, you can either find Anthony Kantaras taking the long route to class to pass through Thompson Library so he can touch the statue head of the former president William Oxley Thompson, or you can find him making his rounds to study in each of the libraries around campus. While the junior neuroscience major enjoys the traditions at The Ohio State University, he has a knack for helping others along his collegiate journey – even embracing social media and becoming a surprise TikTok success doing it.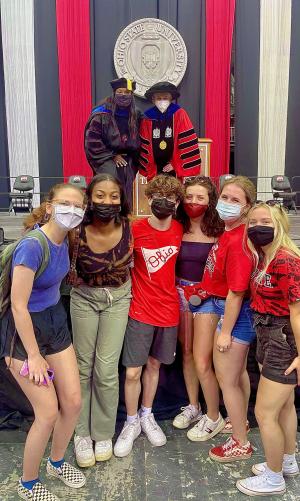 "I love to help people because the path to success isn't straight forward and sometimes you need a good support system," says Kantaras. "Being a part of a disadvantaged community and experiencing such diversity at a young age is something that has definitely molded my current interests."
Kantaras has picked up several roles like becoming a resident assistant, a biological sciences scholars program peer mentor, and neuroscience program ambassador - which allows him to guide undergraduate students in the major with advice on classes and research. 
As a student who went to a small-town high school with a graduating class of about 90 students, his search for a diverse community led him to Ohio State. While he anticipated adjusting to a significantly larger university, it quickly became non-traditional and smaller because of the COVID-19 pandemic.
Despite the changes, he chose a new hobby to inspire other students where Kantaras created a "study with me" TikTok account. Now with more than 25,000 followers and 1.5 million likes, the student uses the platform to motivate and inspire others. From showcasing study tips, day-in-the-life vlogs, and LIVE "study with me" sessions, others are able to tag alongside the content creator's journey as a pre-med student.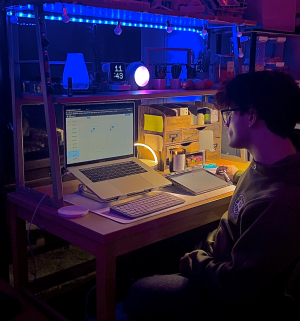 After being inspired himself by another student who recorded themselves studying to minimize phone distractions, Kantaras decided to take the idea further to help others optimize their focus time. In 2020 he posted a video on TikTok, which quickly gained 300,000 views overnight. Kantaras finds recording himself to both be productive, but also motivate others.
The vlogs, study sessions, and the plan to support other students will continue beyond his undergraduate studies. Kantaras says he wants to change help others with the strenuous, and sometime unguided, journey applying to medical school.
"I want to take my social media platform a little more seriously to further impact students, especially with the medical school application process. It's daunting – the whole med school journey, and college in general."
The desire to help people is one of the reasons Kantaras is pursuing a career in the medical field. As a student, Kantaras works as a research assistant in the Stress and Health Lab at the Institute for Behavioral Medicine Research, which explores the connections between mental and physical health. His research experience has not only solidified his desires to possibly pursue a MD/PhD, but also his views on his own health and general wellness.
Although he pours much of himself into others, the support from his friends helps when Kantaras is in need. As an independent person and self-proclaimed overachiever, he has come to learn just how important it is to have a support system. His biggest lesson from college thus far has been accepting that it is okay to "steer out of the fast lane" and slow down from the constant hustle and bustle of life.
"College isn't some sprint to the finish line. It's okay to take the scenic route at times. Because that's where you get to explore, learn, grow, and enjoy the experience."