Choosing a university more than 560 miles away from home can be challenging. For Cydney Carter, it is a challenge she is working to overcome while she creates her own identity.
Carter, now a sophomore, grew up as a twin attending a small private all-girls school in Atlanta, Georgia. She had been in classes with the same students since middle school. Along with knowing the same people for several years, her identity was bonded to her sister's sameness. So, it was vital for her to come to The Ohio State University to foster an environment of new perspectives and meeting new people. For Carter, becoming a Morrill Scholar and Law & Society Scholar were some of the first steps to accomplishing that goal.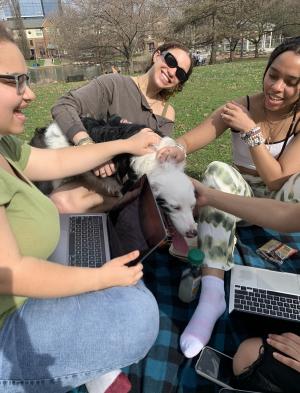 "The (Law & Society) Scholars Program is where I met a lot of my friends that I'm close with. Living with them in the learning community, having people available to me on my floor or just a few doors down, was helpful." 
While Carter is still working to-get used to the Midwest winters, she is continuing to find ways to make Ohio State home. Whether she is creating new memories by riding scooters to explore campus with friends or enjoying the Schottenstein Center atmosphere full of the Buckeye spirit, she is determined to follow new opportunities.
Not only is the Sociology major a member of the Law & Society Executive Board, but she was recently named a Center for Ethics and Human Values Civil Discourse Fellow. The initiative aims to discuss problems openly, vigorously, and respectfully. Carter believes the skills she is learning about how-to handle difficult conversations will be helpful during a casual setting and not just at large forums.
"Conversations are most productive when two people don't have the exact beliefs on every topic," says Carter. "You can always learn from people, and being in these different groups, I've learned a lot of different things."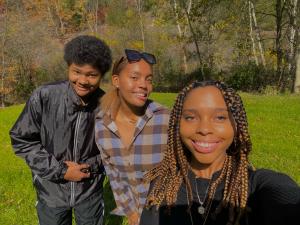 After speaking with the scholar for five minutes, you will learn about her passion for diversity, equity, and inclusion (DEI). Carter has a minor in Pre-Law and Human Rights. She is taking classes to earn her DEI certificate because she wants to create change effectively.
Although she ultimately decided to attend a university separate from her twin, who is attending a different university and is working to become a registered dietitian, some of Carter's career goals within DEI are inspired by her sister, Monday.
While Carter may get homesick or miss her parents, younger brother, and twin sister, she has found joy in learning from her new connections and exploring her friendships to make Ohio State home.
"This school, this experience is everything I had hoped it would be, and I wouldn't change anything I've done so far."