As the autumn semester winds down, first-year Honors student Halle Schmidt has taken advantage of getting to know The Ohio State University and its opportunities while staying true to herself as an avid writer and continuing to stay fit.  
Before attending Ohio State, the biochemistry major knew it was important to balance her classwork with her extra-curricular activities. Schmidt grew up playing lacrosse and wrote her first novel in high school, so it was vital to find a club to keep her occupied while at Ohio State. After attending the Student Involvement Fair, she decided to join OSU BookTok and Girls Lifting Organization.   
"OSU BookTok is like the book club of the university. It's a good way to read and talk with people who are also reading the same thing and are interested in what you are reading. Girls Lifting Organization is a great way to meet people who are also interested in fitness and weightlifting."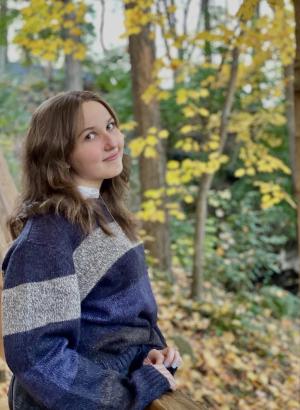 Although Schmidt taps into the left side of her brain for biochemistry, she uses the other half to find some relief. To do that, she began writing. Schmidt has been writing since high school and completed her first novel by the time she was 17.  
"It's an outlet. It's a hobby, something that is separate from what I want to do." 
So far, Schmidt has completed the first book in a series and is working on her second novel for a separate series. Both books are currently unpublished. Schmidt wants to adjust the first story, so for now she is focused on completing the second novel. The novelist has written more than 105,000 words in the fantasy series and says she's enjoyed the thought process behind the story.  
"I love just being able to have that break during my day to write whatever I want, and it's just something I really enjoy." 
As Schmidt continues to write in her free time and navigate Ohio State, she is also looking forward to future opportunities like studying abroad and conducting research. Within biochemistry, Schmidt is on the pre-medicine track because of her interest in medical research. Until then, she has found another side of research to be involved with – psychology research studies.  
"I like being involved. I'm doing the second part of a study about Alzheimer's and dementia. It's cool to see because I know I want to be involved in something like that later on. So, seeing the undergrad center involved already gives me a chance to feel-out what I want to do and if I want to be involved with research more than other things."  
Schmidt encourages other students to find clubs or organizations that fit their interests and balance well with their schedules.